Essential tools for
Composers at any level
Serious composers and musicians use the best tools. Those professionals know that such tools are (literally) instruments of their success. Whether composing music for a quick web video or a feature film, quality tools can be an extension of your creativity. 
Compozly is proud to be affiliated with several of these tools. Some of the products listed on this page are affiliate links, which means that if you click that link and subsequently make a purchase, we will earn a commission. You pay nothing extra; any commission we earn comes at no additional cost to you. Please understand that our recommendations are based on experience with and knowledge of these companies. Compozly works very closely with professional composers and recommends these tools because they are extremely helpful and useful, not because of the small commissions we receive if you choose to buy something. Please do not purchase any of these products unless you feel you need them or that they will help achieve your music production goals.
Digital Audio Workstation (DAW) Software
Apple's Logic Pro has sophisticated tools for professional songwriting, editing, and mixing are built around a modern interface that's designed to get creative results quickly and also deliver more power whenever it's needed. Logic Pro X includes a massive collection of instruments, effects, and loops, providing a complete toolkit to create amazing-sounding music.
Steinberg Cubase is one of the most powerful music creation software packages in the world. With its unrivaled range of flexible tools, you can create any kind of music quickly and intuitively. It comes packed with a wide range of virtual instruments, effects and thousands of sounds. Whether you're a professional composer or a music production beginner, Cubase provides you with everything you need for turning your ideas into music.
Disclaimer: This is an affiliate link.
Virtual Instrument Software
Spitfire Audio works with the world's best composers, producers, engineers and studios to create detailed, sophisticated and realistic recordings of instruments. Their virtual instruments and sample libraries enable you to perform and compose within your DAW (Digital Audio Workstation), offering you thousands of sounds at your fingertips for endless inspiration.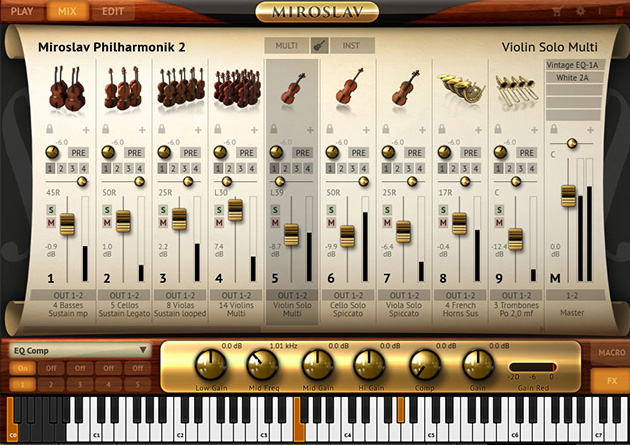 Strings that soar, woodwinds that dance, brass that commands and a full symphony orchestra of sounds at your fingertips — all expertly performed with musical articulations for real music played by real musicians.