Chances are if you are reading this, you are a filmmaker or composer, so you know without a doubt that picture without music only works in certain instances. Most films really need music to guide the audience, bring added emotion, etc. etc! But sometimes it can be beneficial to see and hear a few examples in a row of instances where music is either altered or removed, and how each can affect the final product.
Enjoy the following examples of this concept, and while watching, use this as motivation to know that what you do as a film composer is super important to film as a medium! And if you're a director or producer, this will emphasize how important it is to use a composer for your film project.
The following is a scene from the film Pirates of the Caribbean where you get to see how different styles of music changes the tone of the moment and what kind of character Jack Sparrow is. Rather than a heroic cue, what if we hear a horror or a comedic underscore? Pay attention in this video how each style works but also changes the scene completely based on the context.
This scene from The Lion King film is similar to the Jack Sparrow scene above in that we see how new music can give a scene new life and the viewer a unique emotion based on the music used.
Below is a really short, funny, yet informative video about this concept of how the exact same scene can change radically in tone and meaning just from switching out the music.
And finally, check out this scene from Jaws with and without the music by the incredible John Williams. It really hammers home the need for music, especially during key moments of movies. It also highlights once more just how incredible John Williams is and the effect he has on his films.
Of these clips, is there one in particular that stood out to you as the scene that most benefited from either having music or NOT having music? It is very important to note that many scenes work much better without music. Not all scores need to be wall to wall music, and only certain films like Star Wars work with that type of approach. This article is meant to reinforce in your head that composers are incredibly important to every film project, regardless of how much music is needed. Not all albums or songs need visuals, but a majority of films or television shows need music in some capacity to make it work emotionally and from a narrative standpoint.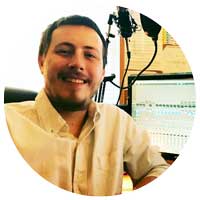 Adam Robert Galloway
Film Composer
Adam is a professional film composer based in Los Angeles