Directors Who Scored Their Own Movies
The Director's Symphony:
A Look at Filmmakers Who Scored Their Own Movies
The main reason a company such as Compozly exists is the collaboration between a filmmaker and a composer, but sometimes a director is also an accomplished musician themselves, leading to even more of their own imprint on a film. Here are some of the best examples of directors who also have the ability to score their own movies, saving them a bit of money in the budget while also giving it even more of their own identity to the final film. Here's a list of directors who scored their own movies!
Clint Eastwood
 Known for composing the scores for several of his films, including "Mystic River" and "Million Dollar Baby."
John Carpenter
Renowned for both his directorial and musical talents, composing and directing the scores for movies like "Halloween" and "Escape from New York."
Rob Zombie
A multi-talented filmmaker and musician, known for directing and scoring films like "House of 1000 Corpses" and "31"
Robert Rodriguez
Known for his unique style and direction in films like "Sin City" and "Desperado," Rodriguez often composes the music for his own movies.
Charles Chaplin
Chaplin often did it all when it came to creating films, ranging from acting, writing, directing, and even composing 20 of his films. Although he is best known for his acting roles in silent movies, Chaplin frequently wrote the scores for his own movies. This is pretty interesting when you consider just how much music is featured in silent movies – given there's no dialogue, the music is constant, and often is used to tell the story. Chaplin's compositions can be heard in some of the best silent movies of all time, including City Lights, Modern Times, and more!
Michael Giacchino
Going the opposite direction, here is someone who is a very accomplished film composer who turned to directing his own film, "Werewolf by Night" that belongs oddly enough in the Marvel Universe. Giacchino has scored MANY of the biggest movies such as Star Wars: Rogue One, Jurassic World trilogy, Pixar films, Thor: Love & Thunder, The Batman, and many more.
In Conclusion:
Many directors today require the help of an accomplished film composer, as creating music for film and television can be a huge undertaking, but the directors on this list deserve a round of applause for taking on both tasks in order to create something that adds even more of their identity to the film while slashing the music budget a bit! Although rare, directors who scored their own movies add an extra layer of customization into their productions and create something even more personal to the filmmaker, which resonates with audiences!
Get the latest articles in your inbox.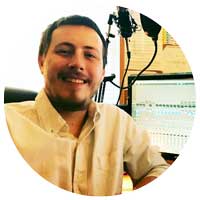 Adam Robert Galloway
Film Composer
Adam is a content creator for Compozly and a fellow music composer. He has been scoring films since 2012 and releasing original & cover songs as Muzikm4n since 2017. Despite no formal training in composition, Adam has spent many years learning how to produce and compose music that provides filmmakers with effective and unique scores.
Are you a music composer?
Join the composer community by quickly creating your free Compozly profile
Create my account