YouTube is a massive library of information for a variety of careers, hobbies, and passions. To save you some time (if you want to become a successful film composer) We've compiled this list of YouTube channels that you should immediately subscribe to or add as a bookmark!
Think of these as your classes for your film music composition university. The best part is, it's free and you won't owe a ton of student debt… Either way, enjoy these 10 YouTube channels for aspiring film composers!
Junkie XL: With some of the most unique and bigger than life scores such as Mad Max Fury Road, BvS, Tomb Raider, Deadpool, and more, Junkie XL has a very transparent and helpful channel that will help any modern composer tremendously. He really tells you how it is and he knows what he's talking about in regards to the industry and composing techniques. Videos include Q&A's, behind the shoulder of Tom showing how he makes his scores, multiple opportunities, studio tours, and more!
Ashton Gleckman is a young but incredibly knowledgeable and talented composer who provides videos that go behind the scores as he recreates popular film/tv music in his DAW, retrospectives on film composers, and long-form discussions with other composers.
Orchestration Online: If you're in the mood for learning about orchestration techniques, focusing on score-reading, along with helpful advice on how to better understand the orchestra and their relationships to one another. Thomas Goss is the expert for orchestration!
Film.Music.Media: for a range of interviews with some of the most prolific composers out there, plus some others more under the radar, and scene studios. A channel with a lot of good variety in terms of knowledge you'll receive!
Global Composers Network: Is a smaller version of Film.Music.Media. This channel has a good amount of composer interviews, along with quick tip videos, and speed scoring over previously scored scenes. A very good supplementary channel to any aspiring composer!
Rick Beato: This guy is a musical genius, ranging from rock to classical to film music, he really dives deep into music theory, interesting music trend discussions, film score studies, in-depth looks into why certain musical artists are so good, and a lot more. Highly recommend this one for the information Rick provides!
Mike Verta: Buckle up! Mike makes some LONG videos, ranging from 10 minutes to 12 hours! But not only are his videos entertaining, they're incredibly informative and he doesn't sugar coat anything. He gives you the cold hard truth and it's brutal but also very necessary to hear if you're in the process of developing your ear and trying to understand what sounds good and what doesn't, especially in the world of orchestral music. It's something cool to take a day off with your piano and his videos and just try to soak in as much as you can. He not only goes over harmonic concepts and why John Williams sounds so amazing, but he reviews sent-in composer works. You'll enjoy it more than you think!
ThinkSpace Education: These really nice and cool Brits give some great over the shoulder style videos showing how to approach certain types of scoring, interviews, and other fun videos that composers will love! They also offer courses in an online university format, worth checking out if you have some extra dough and want more in-depth education specifically dealing with film composition.
12tone: Great for visual learners, this is music theory for dummies, which can be really nice for beginners or intermediate learners! I spent many hours on this channel taking notes and just immersing myself in what the speaker was really saying. It does move slightly fast in terms of the editing/pacing, but it's almost better to just watch the videos a few times anyways to really understand and absorb everything. Don't worry though, they're all pretty short videos!
Spitfire Audio: Focusing mostly on the more electronic side of film scoring, sampling, and virtual orchestral instruments, this channel also provides some stellar tips and advice for composers. Not too much to say about this channel other than it's more really good information every composer should add to their bookmarks or subscribe to!
Now with lists like these, it's important not to spend half the year watching thousands of videos. Take these and slowly digest the information in a strategic way. Maybe you can listen to the interviews with headphones on while you workout or play video games. You could focus on the music theory channels first to really nail down the basics there, and then move on to the others. Be creative with your approach to how you treat your video education process, just be smart, but don't forget to have fun with it or you'll want to give up earlier than you should!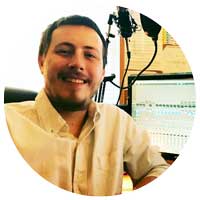 Adam Robert Galloway
Film Composer
Adam is a professional film composer based in Los Angeles